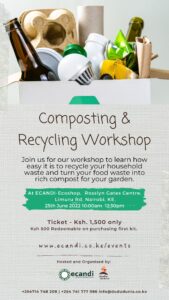 Are you ready to learn about recycling and composting?
For beginners to experienced recyclers and composters, our practical composting and recycling workshop will cover the basics of how to compost  and recycle. For this workshop, ECANDI will show you how to recycle and Dudu Dunia will teach you how to make compost at home.
The workshop will cover:
– What is compost and how it is made,
– What is recycling and how it works,
– The environmental benefits of composting and recycling.
– Which bin is right for you,
– Common composting and recycling problems and remedies,
– How to use your compost in the garden.
During the workshop you will be able to purchase your chosen home composting products at the eco shop!
A ticket is only Ksh. 1,500 of which Ksh. 500 is redeemable when purchasing your first composting kit.
You will be able to start composting and recycling right away
This workshop is limited to the first 20 participants.
*COVID19 guidelines will be followed.